Did You Know? Carrots Can Give You A Beautiful Skin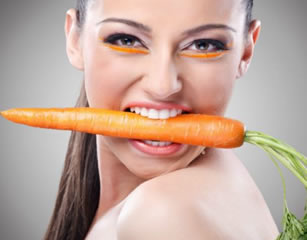 Winter special skin glowing face pack for dark skin tone
Do not just eat carrot salad, but it will also brighten the face, especially for the dark skin, this face pack will be visible only in a week.
When it comes to looking beautiful, you cannot separate health from it. Because a person who is not healthy cannot look beautiful. Because your skin will reveal the body's malnutrition and weaknesses. Another special thing that comes up in terms of beauty, is that if a beauty product or skincare routine is making a good impact on one person, then it is not necessary that it will be seen on every person.
Care as needed
Just as we need different things to eat in different seasons, similarly our skin also needs different care in every season. The special thing is that nature has given the human being this need, and has also given a solution to that need.
That is why different kinds of fruits and vegetables come in every season. So that every kind of need can be met. These fruits and vegetables work to make you beautiful in two ways. One way is when you become beautiful by eating them and the other way is when you apply them to your skin to enhance beauty.
If you have a dark color, then get the shine
If your complexion is dark and you want to make the skin healthy, beautiful, and glowing, then carrots can be very helpful for you in this winter season. Here we have brought some face packs and face masks ready for people with a dark complexion. Through which you will improve your appearance, your skin will also become more glowing and attractive.
If you want to remove skin dryness
Your skin is dark and your skin starts to look lifeless due to dryness in winter, then mix the carrot with honey and make a hydrating moisturizer. The method to make this moisturize is as follows.
Half Cream Spoon
-2 spoon grated carrots
Take one spoon of honey. Mix these three things well in a bowl. Your face pack is ready.
Now before applying face pack on face, it is important that you wash and clean your face. So that the dirt and pollution on the skin is removed, the dirt deposited in the skin pores is removed. After this clean your face with a soft towel and apply this face pack.
Keep this face pack on the face for 20 minutes and then rub the face with light hands and remove the pack. Wash the face with fresh water and apply a good moisturizer. You use this pack at least 4 times a week. You will see a difference in your skin within a week.
To remove pimples from dark skin
Pimples are coming on your face again and again and you are not getting rid of this problem even in the winter season, then prepare face pack by mixing carrot with cinnamon powder. You will definitely benefit from applying this pack. You will need these things to prepare a pack…
-2 spoon grated carrots
-5 pinch cinnamon powder
-1 teaspoon cream
-5 drops rose water
Take all these things in a bowl and make a paste. Wash the prepared paste and apply it on the cleaned face. After about 20 minutes, wash the face with fresh water. After this, definitely use toner on the face. You better use green-tea toner.
This will help in closing the open pores of your skin. It will soothe the itching in the pimples and help in killing the active pimples enhancing bacteria on the skin. After using this pack for a week, you will be able to experience the difference yourself.
Face pack to increase glow
To increase the glow of the skin, you will need a carrot and rose water face pack. We will tell you about this pack as well, that even if you apply this pack regularly on seven days of the week, not just 5 days, then you will automatically experience the effect. To make this face pack you will need.
-2 teaspoon rose water
-2 spoon grated carrots
-1 teaspoon gram flour
Half Cream Spoon
Mix all these things in a bowl. Apply the prepared paste to the face after washing it and leave it for the next 20 minutes. When the paste dries, remove the paste by rubbing it lightly. Wash face with fresh water and then wipe with a soft cotton towel with light hands.
Just the last but important thing
Now soak a cotton ball (cotton ball) in rose water and apply it on the face like a toner. If there is dryness in the skin, you can apply Aloe Vera Gel on top of it or apply any good moisturizer. If you want, you can massage with two drops of almond oil on your face and neck. Doing this will help increase oxygen levels in the facial skin. This will make your skin look glowing and healthy soon.
Benefits of applying face pack in winter
There are many benefits of applying face pack on face in winter. Especially if we talk about dark skin here, then carrot face pack is like a blessing for you. Which will protect your skin from damage, dryness and dullness in winter? In addition, if you use it regularly, then a natural glow will be seen on your face all the time. Applying carrot face pack has the following benefits.
-Removes dead skin cells
Helps increase oxygen and blood supply to the skin
Removes vitamins and mineral deficiency in the skin
Does not allow skin to dry due to cold winds
Blocks moisture in cells and maintains smoothness.